Dog Training Stockport, Puppy Education & Behaviour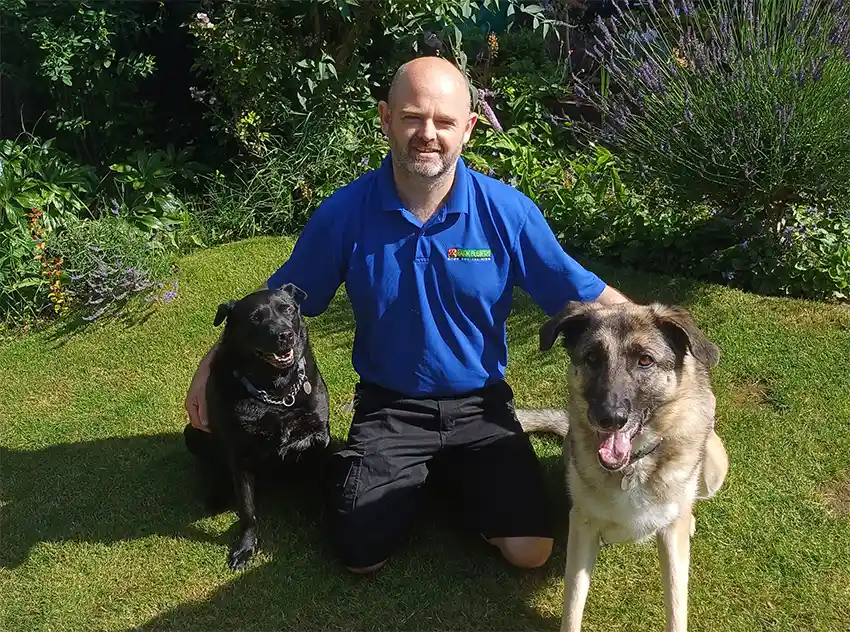 Welcome to dog training Stockport, I'm Dave Jefferay your local dog and puppy behaviour therapist and trainer for Bark Busters. I've always loved dogs and when I was young my parents had a variety of dogs; one I remember with great fondness was Buster a Border Collie, German Shepherd cross. He was a wonderful dog and later I named one of my own dogs after him. There was Cassie, a young rescue dog who I took to puppy training classes. However, it didn't provide what I wanted so I researched online and in books and was able to train her myself to be a lovely responsive family dog.
Over the years, I frequently saw an old schoolmate driving around in his sign written Bark Busters vehicle and it prompted me to refresh my dog training knowledge online, TV and in books, but I found it had become very confusing with many contradicting ideas and methods. So, having talked with my old schoolmate and on learning how much he enjoyed his work, I decided that the time was right to consider a change of career!
My wife and I rehomed Perra a beautiful Spanish rescue dog who is a German Shepherd, Galgo cross (Spanish Greyhound hunting dog). She's large, fast, powerful, and highly intelligent! She arrived at around 5/6 months old and is now 4 yrs old. On her arrival we had to start from the beginning with her training, teaching her where to toilet, what not to chew, how to walk on lead and get her used to our cats and chickens (no chasing allowed!) and although, at first, I wasn't sure about using a crate, I did get her one and she loves it. However, the cats rule in our house! The cats take over the crate and Perra is far too polite to ask them to move! With my young son in the house I am currently training both Perra and our child the boundaries they need for basic safety and to avoid jealousy; of course, baby gates are great for when full supervision isn't possible.
If you're looking for professional dog training near you, then you have found the right place. Bark Busters methods are based on the way that dogs naturally communicate with each other, using voice tone and body language in a kind, calm and natural way that dogs naturally understand. They quickly learn to trust and have fun playing the games that we teach to rehabilitate the issues that dog owners are having. I'll demonstrate, then coach you to use the same techniques so that you continue to implement the training. It's useful for all the family to be involved so they can all have fun and help each other. There are various techniques to teach leadership and to change the unwanted behaviour that needs our assistance.
Currently, I am studying for the Advanced Diploma in Applied Animal Behaviour (Canine) which is fascinating, whilst thoroughly enjoying my work with Bark Busters and the lovely clients and dogs I meet.
You may be experiencing jumping up; barking at noises in the house or garden causing neighbours to complain; it may be pulling your arm out of it's socket when on lead or being reactive to other dogs or people on the street. It could be separation anxiety (lots of that happening after lockdown) or chasing sheep/cattle or lack of being able to call your dog back in all situations. More than one dog? Are they getting on well or are there signs of sibling rivalry between them? Any resource guarding or toileting in the home? Whatever, it might be, I will be happy to help you achieve a happy, responsive dog who listens to you.
You may have an overprotective German Shepherd, a nipping Border Collie, a noisy terrier, a "doodle" that won't come back when called or even a dog with OCD. You may be new to having a dog in your life, whether it's an adult rescue or you are getting a pup, if you have any concerns and would like help and advice, I can help you.
My main wish and the best reward I can have, is to help dogs and their owners enjoy each other 100% of the time, to ensure that dogs do not end up being relinquished to a rescue centre for rehoming due to unwanted behaviour. Any dog deserves a second chance.
Also, our unique Lifetime of the dog or 12-month support guarantee, where one payment gives free, ongoing support for the chosen period, will give you peace of mind that help is always available for any issue. I look forward to hearing from you and learning about your dog.

David accepts debit/credit cards
Areas Covered
Your trainer is an independent business owner who operates their own business under a franchise agreement with Bark Busters. Jefferay Dog Training Limited trading as Bark Busters, is a franchisee of BBDT (UK) Limited, the Master Franchise holder.
Contact Your Local Trainer
My Service Ratings