Dog Training Wilmslow, Obedience & Behaviour, Puppy Education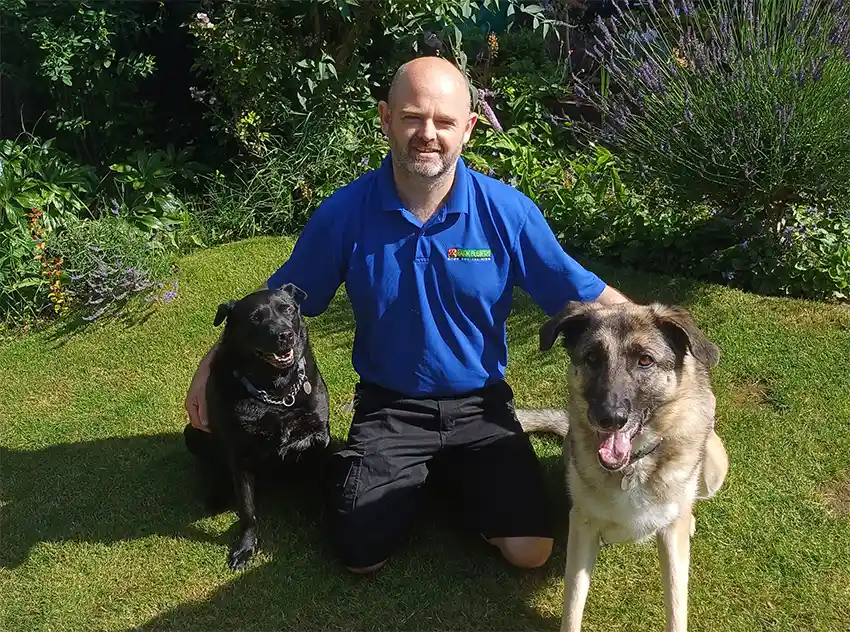 Welcome to dog training Wilmslow, I'm David Jefferay your local Bark Busters behaviour therapist and trainer and I work with dog owners like you to resolve behaviour problems. The reason I love my job and find it so rewarding is that helping dogs and their owners enjoy each other 100% of the time, will often prevent dogs from being given up for rehoming, or worse, euthanised, due to the behaviour problems. You may have tried to work out what to do to help your dog change, but a great deal of the information on the internet, in books and TV, about dog behaviour and training or rehabilitation, is all very confusing and often contradictory. As a result, people can feel that they've failed their dog. That's why I love the Bark Busters approach. The techniques are natural to your dog and it's easy to teach. Dog owners are often amazed from the very first lesson, that they can gain more control so quickly. The methods are based on the way that dogs instinctively communicate with each other, using voice tone and body language. We teach you and your dog in a kind, calm and natural way that dogs find easy to understand. Dogs quickly learn to trust and have fun playing the focus and impulse control games that rehabilitate the unwanted behaviours that you're experiencing. I will demonstrate, then coach you to use the same techniques so that you can continue to practice. It's better for all the family to be involved so all can have fun and help each other. There are different techniques to build trust and focus, plus specific techniques to change the unwanted behaviour.
I've always loved dogs and as I was growing up the family had a succession of dogs. The first one I regarded as being "mine" was Buster, a male Border Collie cross German Shepherd. He was a wonderful dog who spent long days with me and friends playing in the local woods during school holidays. My first dog as an adult, after leaving home, was Cassie, a young rescue dog who cleverly adopted me when I went to a rescue centre. I trained her myself and she became an amazing dog.
I found Bark Busters just at the right time when I had decided to change my career. My wife and I had adopted a lovely dog, from a Spanish rescue, called Perra. She's a cross between (we think) a German Shepherd and a Galgo, a Spanish Greyhound type hunting dog. She arrived when she was around 4/5 months old and needed all the basic training that she'd missed out on. We taught crate training, toilet training, learning to walk nicely on a lead, teaching her that shoes were not a chew toy, and because she was going to be a big powerful dog, not to jump up or do the usual puppy biting. We also had cats and chickens, so we worked hard at teaching her not to chase. She has, at 4 years old, become a wonderful dog, who is a pleasure to live with. We have a young son now and we are going through the process of making sure that they are both aware of the "dos" and "don'ts".
I am currently studying for my Advanced Diploma in Applied Animal Behaviour (Canine) which is fascinating, whilst thoroughly enjoying my career with Bark Busters and the lovely clients and dogs I meet.
Are you looking for professional dog training near you in the Wilmslow area? Maybe you have an over protective German Shepherd that's pulling / lunging on the lead, a frustrated Border Collie jumping up or having selective hearing, a constantly barking terrier with separation anxiety, a rescue dog showing aggression (to dogs, animals or people) any other issue that is preventing you from enjoying your dog, then please get in touch. You may want your new puppy to have the best possible start in life to avoid future problems. I have puppy training programmes available which will support you and your puppy for years to come.
I can work either face to face or remotely by video conferencing, which ever you prefer. Our unique Lifetime of the dog or 12-months support guarantee, where you only pay once and receive free follow-up visits for the chosen period, will allow you to have peace of mind that if you need additional help at any time, I will be happy to return.
Also, our unique lifetime of the dog or 12-months support guarantees, where you only pay once and receive free ongoing support for the chosen period, will give you peace of mind that help is always available for any issue when you need it. Contact me today, I look forward to hearing from you and learning about your dog.

David accepts debit/credit cards
Areas Covered
Your trainer is an independent business owner who operates their own business under a franchise agreement with Bark Busters. Jefferay Dog Training Limited trading as Bark Busters, is a franchisee of BBDT (UK) Limited, the Master Franchise holder.
Contact Your Local Trainer
My Service Ratings