meet your specialist trainer Angela Young
Puppy and Dog Training Formby Merseyside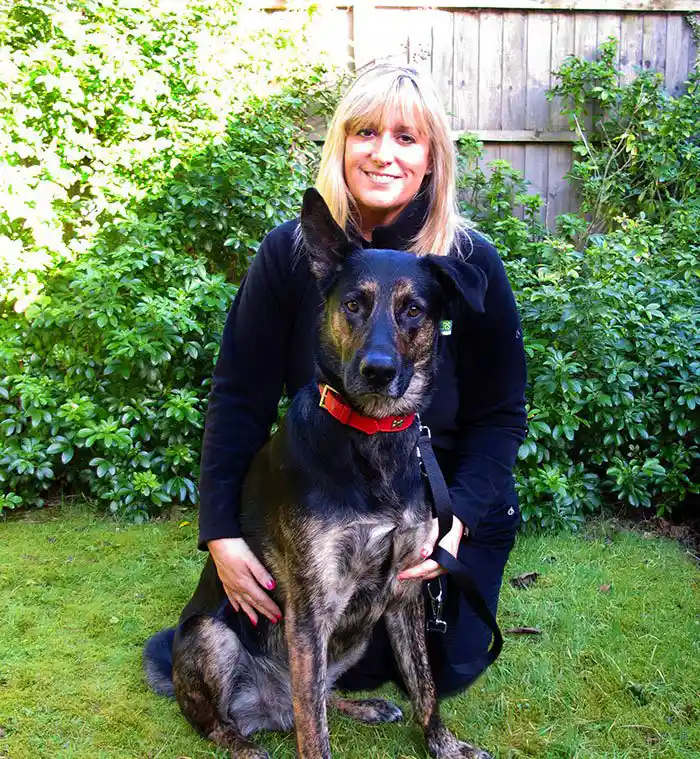 or call 0808 100 4071
I'm Angela Young, your local therapist for Bark Buster Home Dog Training Formby, Merseyside.
Hello and welcome to my page where I will explain to you something about the Bark Buster system of training, and how it can help you with your dog-training needs.
It's true to say that many clients come to us only after they have tried various other dog training methods without success. Some are at the end of their tether, and their dog is at risk of rehoming. I have visited many clients in this situation and it gives me such pleasure when they see the difference the Bark Busters' training system can make to their lives. Our system is easy to learn, easy to implement, and brings results very quickly. It is also kind to your dog as it is based on verbal communication, voice tones, and body language. Hands are used for petting and praise only in our system, and never will we do or use anything that would inflict pain on a dog!
Unlike many other training systems, our training starts in your home. I will visit you at home, at a time to suit you, and give you time to tell me what is happening, and what you want to achieve. I will then teach you about the Bark Buster system of training and communication that is based on canine psychology. It is explained simply so that everyone understands the role of canine psychology in dog training, and how to use it. Then we will begin retraining both you and your dog using various exercises based on your requirements, until you are happy and confident that you can continue with the training and communication after I leave.
This initial session will last 2-3 hours, so it is a good idea to make sure that you let people know that you won't be available during this time, as I will need your concentration and attention. Having said that, people do find that the time flies by as they find the session so interesting and enjoyable.
By the end of the first session you will usually see a difference in your dog's behaviour simply because you will be communicating and behaving in a way that he understands. He will appear to have started listening to you, instead of ignoring you. The fact is, he has probably been listening all along but couldn't understand your differing commands and voice tones, or had no confidence in your leadership skills so had to make his own decisions. This will all have started to change during our session, so your dog can relax and be confident in your ability to take on the leadership role.


Barking, pulling on the lead, recall, sibling rivalry, destructive behaviours, aggression; these are all problems that I deal with regularly, along with many others. Our training system will enable you to start eliminating these unwanted behaviours.
I also offer puppy training so, if you are the proud new owner of a puppy and would like to get off to a good start, give me a call as I would be delighted to help you.
I am a specialist in helping to rehabilitate rescue dogs, and work closely with Freshfield Animal Rescue, and the RSPCA in Southport to give dogs the best chance of finding a new home, and supporting them in their adoptive families. My own dog, Cole, is a rescue German Shepherd Cross who has needed careful handling owing to his nervous and reactive behaviour. With the Bark Buster system of training, he has become a loving and friendly dog who still retains his big personality and love of life.
I have worked with hundreds of dogs with many and various issues, and hundreds of owners too, from different backgrounds and with differing needs. I am confident that I can deliver a training package that will suit you, and that you will be able to follow; and you can be confident that you can contact me for support when you need it.
I hope to meet you very soon.
We learnt a lot from Angela. Simple, easy techniques. We are confident that the training methods will work as we have seen a great improvement after the first session. Angela is an angel.

J.B.

15th September 2019
I can also help if you are looking for a dog trainer in Merseyside North or Southport
Services provided by Angela
more...
how we can help you and your furry friend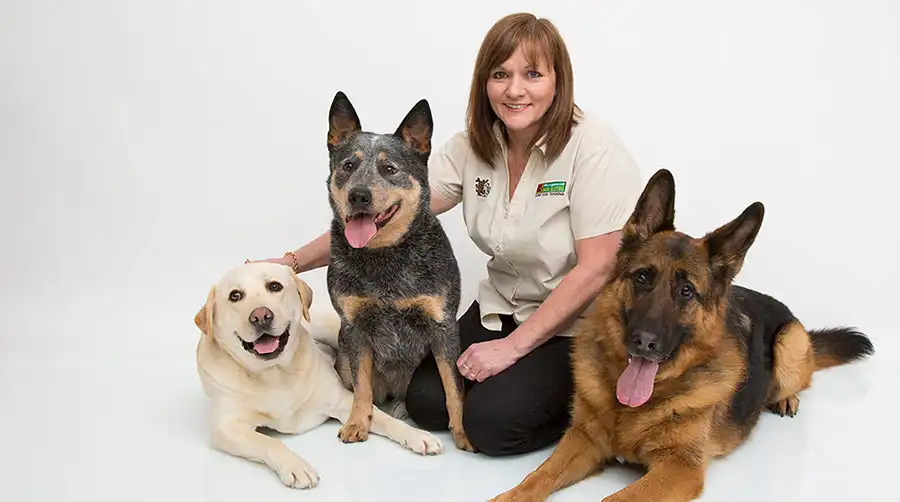 The Bark Busters communication methods help solve behaviour issues such as aggression towards people or other animals
Cure embarrassing habits like barking, jumping up on people, scratching & whining at doors or inappropriate toileting.
Create an obedient dog or puppy that will happily walk on the lead without tugging, sit or stay on command, and come immediately when called.
Set off-limit areas.
Reduce the stress of separation anxiety without the need for sedatives or drugs.
We teach you to communicate with your pet.
Do you find yourself shouting? Do you think your pet isn't listening to you? Maybe you're simply not speaking their language. The Bark Busters communication method is based on the way how our dogs communicate with each other and how they learn from older, more experienced members in the pack. This is what makes our training unique and effective.
Why do we train in your home?
Your pet lives with a family, in a home. This is where he spends most of his time and misbehaves most often, so this is where our programme is most effective. Our dogs learn by association. Bark Busters teaches him to listen in the home environment. If he does not listen at home, he will most probably not listen outside where there are far more distractions.
In your home we teach a one-on-one system without other distractions or the stress of being sent away from you to learn.
Of course, where you are experiencing problems outside the home such as pulling on the lead or dog aggression etc..., we will set up controlled situations in the park or wherever is most practical.
Your trainer is an independent business owner who operates their own business under a franchise agreement with Bark Busters. Angela Young trading as Bark Busters, is a franchisee of BBDT (UK) Limited, the Master Franchise holder.