Bodmin Puppy and Dog Training Behaviour Therapist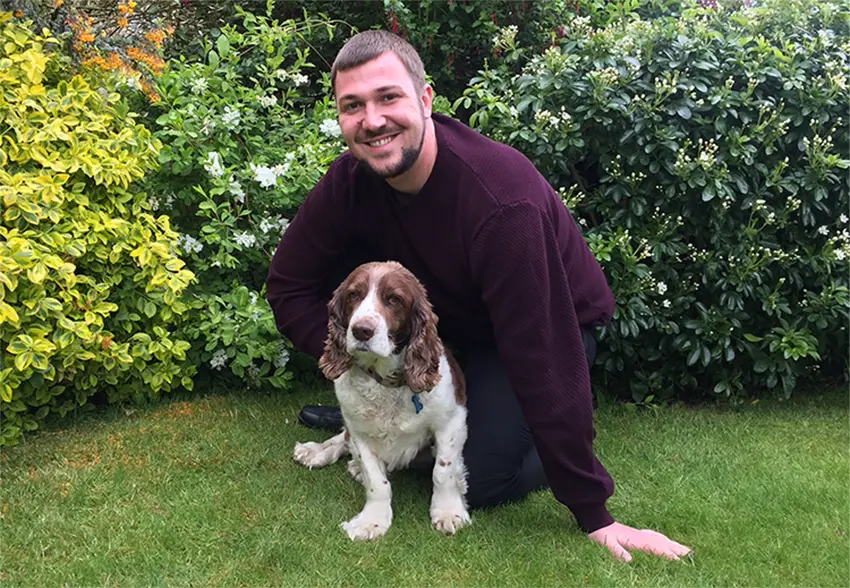 Welcome to dog training Bodmin, I am Ben Jordan you local Bark Busters therapist and trainer. As a dog lover and owner, I understand the challenges that some dog owners can face when trying to get their dog's behaviour under control. It's easy to feel overwhelmed or feel that you have failed in some way. I can promise you that you haven't. Your frustrations and upset may simply be that your dog is not understanding you in a way that will enable him to respond. The Bark Busters training techniques, which are based on the way that dogs naturally communicate, using voice tone and body language, will help you to "speak dog" so that you can rebuild and improve your bond with your dog.
My dog Raffa, was a handsome Springer Spaniel who I had for over 10 years. He came to me as a rescue who was reactive to other dogs, so I know what it's like to feel anxious about going for walks, always searching the horizon and worrying if there was another dog just about to come round a corner. His recall was good, but I had to ensure that there were no other dogs around before I dared to let him off. It was all very stressful.
If you're looking for professional dog training near you, then you've found the right place. Many of the common problems I am called in to help with include separation anxiety, sibling rivalry, barking, pulling on the lead, recall, aggression to other dogs and animals or people, destructive behaviours, toileting, or a combination of any of these. You can relax in the knowledge that, however your dog challenges you, I have come across the issue before. I am happy to work with any breed, any age and any issue. Every dog is different, and their behaviour can be shaped by their environment. Some dogs can behave in a particular way, such as guarding or being overprotective, showing aggression to other dogs or humans. Many Border Collies want to herd and chase everything that moves and sometimes nip at heels. Other dogs can be too vocal, causing a barking nuisance or suffer from Separation Anxiety. If you have more than one dog there may be a Sibling Rivalry problem where it seems that dogs are fighting for no apparent reason.
You Only Pay Once ** Free Return Visits **
Fast, Effective & Long Lasting Results
Proven Training That Works
All Problems Addressed
Any Dog, Any Age, Including Puppies
Are you looking for Puppy Training? I also love working with puppies offering puppy training services in your home. Helping with the various problems like jumping up, toilet training, chewing, play biting and digging. In addition, I will show you how to teach your puppy to walk well on a loose lead and help with stealing and any travel sickness problems. The training will evolve as he/she develops and involves learning through play so you will be proud to walk your pup and be complimented on his lovely manners!
All the training and behaviour services I provide take place at a convenient time in your home so that you and your dog are relaxed and where most of the problems occur. We will meet at a time to suit you to ensure that you have the time available to get the most out of our lessons. I will take time to listen whilst you explain your concerns about your dog's behaviour. I will assess and explain why your dog is displaying the unwanted behaviour problems, explain how our training system works, and how we will be using it to deal with the issues you have outlined to me. Once you are happy, we will then start with some simple techniques to help your dog to understand and listen to you again. I will show, guide and coach you and your dog through the training process, to ensure that you will be able to continue to carry out the training and we will work at a pace that suits you and your dog. As with all of the behaviour and training services I offer, you will receive written instructions to help you, lots of information for reference, and the Bark Busters Support Guarantee either for your dog's lifetime or 12 months, which gives you peace of mind for its duration, knowing that I will support you as often as needed.
If you would like to find out more about how I can help you, please do to get in touch for a no-obligation chat. I look forward to meeting you and your furry family member soon.
A little more about me
It was difficult to find quality dog training near me, so I found Bark Busters after a variety of different jobs, a call centre, care homes and dog walking. Each job taught me different skills that have helped me to understand people and dogs. I studied Animal Behaviour for a year which helped me enormously with my dog walking business. I experienced a variety of behaviour issues with my client's dogs, ranging from lunging and wanting to chase cars and bikes, jumping up, barking, pulling on the lead and some very selective recall. I was able to manage the behaviours and improve them somewhat, but still hankered after being able to understand more and work with the owners as well as dogs.
Having found and joined Bark Busters, I discovered a whole new way of thinking and understanding. I was thrilled that the techniques are so easy to understand for both dogs and their dog owners and are a lovely balance of consistency and fun games and that it can be adapted to fit in to your daily life. There are no harsh methods and training is dog friendly. By coaching you in our techniques, it will enable you to carry out the daily, tailor made programme, simply using your voice tone and body language. Your dog will soon start to listen to you, and those unwanted behaviours will be a thing of the past. At Bark Busters we 'Speak Dog' and I will show you how to do the same.
My previous work experience taught me that people learn at different speeds and in different ways. Dogs are no different. I will teach you the techniques and show you in a calm and consistent way and I will always be available to answer any questions or to give you extra help and guidance whenever you need it. We will work together to resolve your dog's issues, and I will be the first to celebrate with you once you have achieved your goal.
Areas Covered
Your trainer is an independent business owner who operates their own business under a franchise agreement with Bark Busters. Ben Jordan trading as Bark Busters, is a franchisee of BBDT (UK) Limited, the Master Franchise holder.
Contact Your Local Trainer
My Service Ratings