Dog Training Rochdale, Bury & Oldham & Puppy Behaviour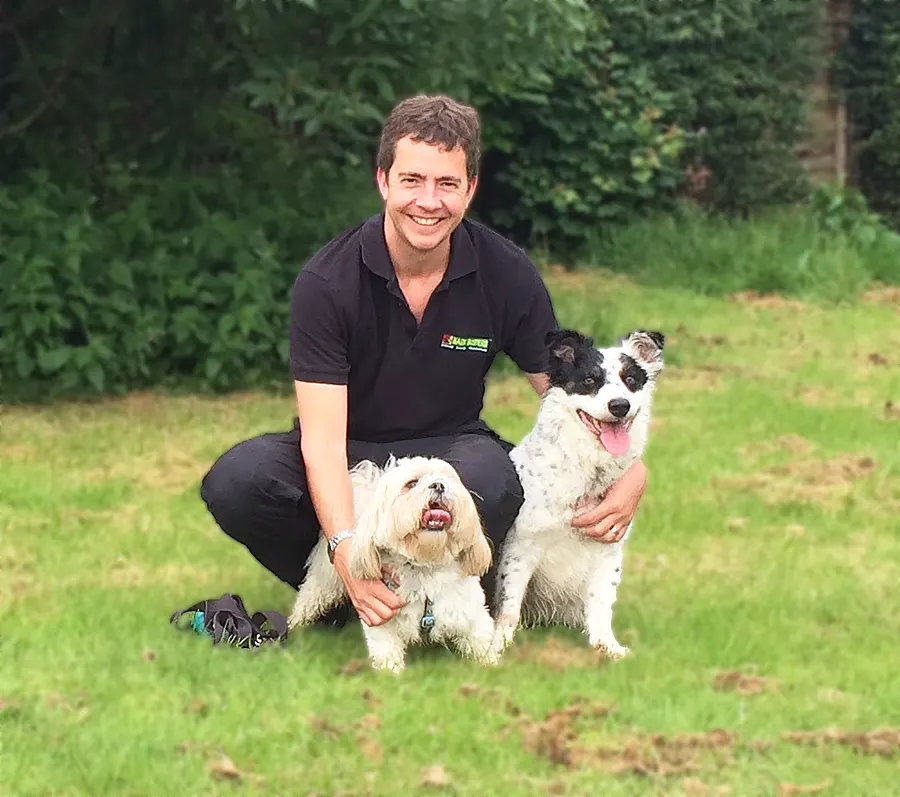 Welcome to dog training Rochdale, Bury & Oldham, I'm Alex Fraser, your local trainer and behaviour therapist Bark Busters.If you are looking for help to deal with unwanted behaviour from your dog or puppy, I will be happy to help. As a Bark Busters therapist, and dog owner for many years, I understand that training your dog or puppy can be difficult unless you have the knowledge and skills required. At the same time, training is crucial if you are looking towards having a well-behaved dog who doesn't embarrass you when out on walks, frighten the postman, or knock over your guests as they walk in through the door! This is where Bark Busters come in. I will visit you in your home and listen to you as you explain to me the problems you are having. Then we will work together using our unique system of communication to put a stop to the confusing commands and inconsistency of the past, and finally allow your dog the luxury of confidence in you as someone he wants to listen to. My experience has taught me that dogs are very willing to listen; they just don't always understand what we are telling them. As I show and guide you through the training system, you will gain the skills and confidence to allow you to teach your dog the way you want him to behave. And because our system is gentle, and non-physical, and involves lots of praise, you dog will start to love his training sessions interacting with you rather than ignoring you.
During my career I have worked with many different types of household, and with many different breeds of dog. There are very few dogs without the potential to become well-trained, well-behaved member of a household. My job is to teach you how to achieve that.
If you're looking for professional dog training near you, then you've found the right place. Whether your issues are aggression, pulling on the lead, recall, separation anxiety, barking, jumping up, or many more, I am confident that I can help you to overcome the problems and build a new, better relationship with your furry friend. You will receive written advice and a training plan to follow after our very first session, and our written guarantee gives you peace of mind that I will return to support you with your ongoing training free of charge throughout your contract.
I also specialise in working with people who have taken in a rescue dog that may be struggling to adapt to his new surroundings. These dogs need lots of patience and time to settle and adjust to boundaries, but they don't particularly need to be smothered with love – just kind, consistent leadership, communication and interaction; things that our system will bring to you.
I love working with puppies, and can help you will all aspects of training your puppy from when you first bring him home, through to leadwork and recall. Puppy sessions are gentle and fun, and take into account the puppy's short attention span and ned for sleep. I will provide you with lots of guidance on toilet training, dealing with mouthing/chewing, and playing with your puppy to establish a relationship that can also help with training.
You can also visit my Facebook Page for news, tips and advice
I look forward to meeting you soon.

Alex accepts debit/credit cards

Alex is first aider trained
Areas Covered
Oldham, Bury, Whitefield, Rochdale, Shaw, Milnrow, Ashton-Under-Lyne, Todmorden, Rawtenstall, Radcliffe, Bacup, Ramsbottom
Your trainer is an independent business owner who operates their own business under a franchise agreement with Bark Busters. Mutts With Manners Ltd trading as Bark Busters, is a franchisee of BBDT (UK) Limited, the Master Franchise holder.
Contact Your Local Trainer
My Service Ratings