meet your specialist trainer Estelle Jackson
Dog Training Chesterfield and Mansfield, Derbyshire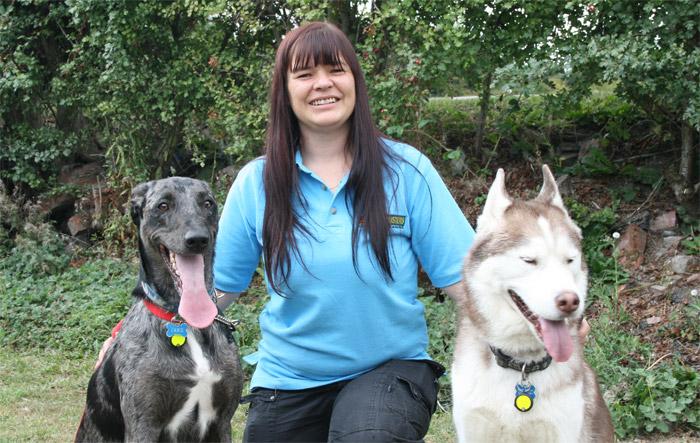 or call 0808 100 4071
Welcome to home dog training Chesterfield & Mansfield and my name is Estelle Jackson and I am your local dog behaviour therapist and trainer for Bark Busters. I have lived with dogs all my life and currently own a Husky called Sanka, a Lurcher called Jake and a Chihuahua called Eddy, who all live harmoniously alongside my cats, ducks and ferrets.
I worked for over 20 years as a qualified Veterinary Nurse and whilst working in the industry I came across many clients who were frustrated with their dog's behaviour. I ran training classes through the RSPCA which anyone could join. I got lots of successful results but there were always a few that never seemed to complete the course. They were embarrassed by their dog's behaviour and the traditional training methods just didn't seem to work for them. I started to look in to other training methods, that were still gentle and humane, but would suit these so called "problem dogs". I needed a training method that could adapt to the dog's personality and not just a "one size fits all". This is where I found Bark Busters. I met up with a few therapists and after seeing the dog training in action I was blown away by the results. I knew then that I was destined to be a Bark Buster and to help owners to achieve the results they needed.
If you're looking for professional dog training near you, then you've come to the right place. I now visit homes in the Mansfield and Chesterfield area, where I show you how to effectively communicate with your dog in a way he / she will understand and to find out why the behaviour is happening. Once you know how to communicate and why the behaviour is happening everything simply falls into place. All it takes is for you to follow my tailor made instructions and practice for 15 to 20 minutes per day to achieve the behaviour you want. Whatever the problem, I can help. No dog is a hopeless case. If you are experiencing such problems as pulling on the lead, boisterous behaviour, jumping up, barking or howling, separation anxiety, destruction, aggression, toileting, general training or you just want to get a good start for your dog or puppy, then I can help you to get things on track. Contact me to see how I can help you to build that rewarding relationship with your favourite friend. Whatever the problem, I'd love to help.
Backed by the Bark Busters Support Guarantee
You only pay once and I return free of charge until you're happy that the problem is fixed. Not only that, if your dog develops a different problem it's all covered on the guarantee too, at no additional cost.
I can also help if you are looking for a dog trainer in Alfreton or Matlock or Sutton in Ashfield
Services provided by Estelle
more...
Estelle is a certified dog First Aider
how we can help you and your furry friend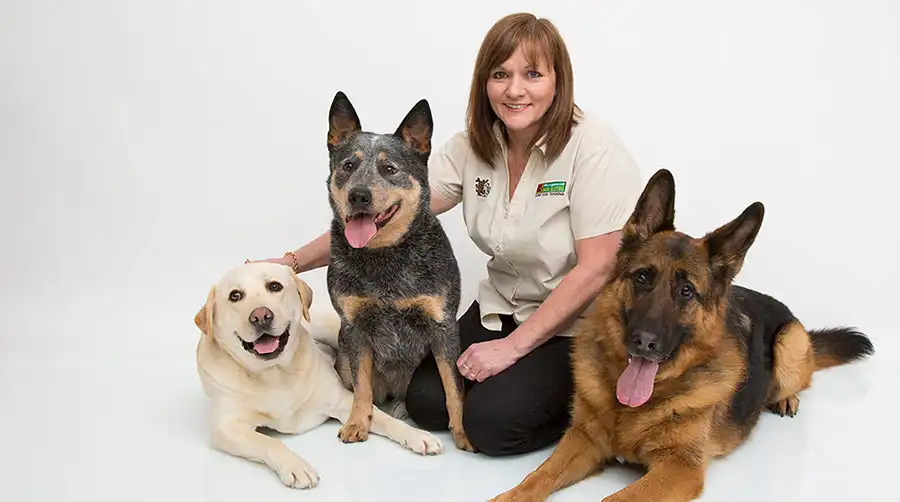 The Bark Busters communication methods help solve behaviour issues such as aggression towards people or other animals
Cure embarrassing habits like barking, jumping up on people, scratching & whining at doors or inappropriate toileting.
Create an obedient dog or puppy that will happily walk on the lead without tugging, sit or stay on command, and come immediately when called.
Set off-limit areas.
Reduce the stress of separation anxiety without the need for sedatives or drugs.
We teach you to communicate with your pet.
Do you find yourself shouting? Do you think your pet isn't listening to you? Maybe you're simply not speaking their language. The Bark Busters communication method is based on the way how our dogs communicate with each other and how they learn from older, more experienced members in the pack. This is what makes our training unique and effective.
Why do we train in your home?
Your pet lives with a family, in a home. This is where he spends most of his time and misbehaves most often, so this is where our programme is most effective. Our dogs learn by association. Bark Busters teaches him to listen in the home environment. If he does not listen at home, he will most probably not listen outside where there are far more distractions.
In your home we teach a one-on-one system without other distractions or the stress of being sent away from you to learn.
Of course, where you are experiencing problems outside the home such as pulling on the lead or dog aggression etc..., we will set up controlled situations in the park or wherever is most practical.
Your trainer is an independent business owner who operates their own business under a franchise agreement with Bark Busters. Estelle Jackson trading as Bark Busters, is a franchisee of BBDT (UK) Limited, the Master Franchise holder.