meet your specialist trainer Kevin McDonnell
Devon, Exeter Dog Training & Behaviour & Puppy Education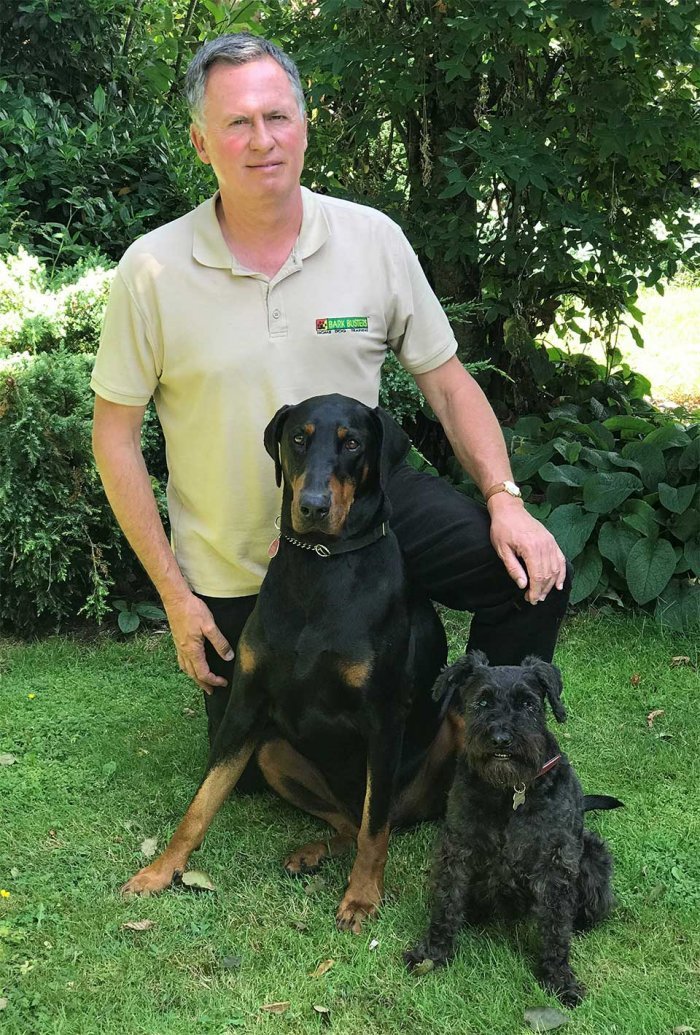 or call 0808 100 4071
Welcome to home dog training Exeter & Devon and I'm Kevin McDonnell, your local behaviour therapist and trainer. Dogs have always been a major part of my life. I believe that the unconditional love they give to their family makes them a unique species. A dog is always pleased to see you and demands nothing in return for this loyalty and dedication. Because of this, I feel that a dog is worthy of our best endeavours to ensure that training and communication is fair, clear and consistent to create a harmonious relationship. This is something that we humans sometimes struggle to achieve, and is often where things start to go wrong. This is therefore the basis of my training programme.
Prior to my life-changing decision to become a Bark Busters Trainer and Behaviour Therapist, I worked for over 25 years in a corporate environment. This period of corporate life taught me the importance of clear communication. We are always happier when we know what is expected of us, and our dogs are no different. During my 9 years as a trainer, first in Canada and then here in Exeter, Devon, I have experienced and demonstrated to 1,000's of dogs and their owners just how important this communication is! Dogs are animals who live in family groups. Whilst the make-up of family groups can differ greatly, what is important is a safe and calm environment where there is clear communication and leadership.
If you're looking for local quality dog training near you, then you've come to the right place. I will teach you in our one-to-one private lessons, delivered in your home. In no time at all, you will be communicating clearly in a way they understand, and by using this system of communication fairly and consistently, you will see many of the behaviour issues you have been struggling with, simply disappear. In addition, my support guarantee gives you peace of mind that I will be available with telephone support to help you for the lifetime of your dog!
Whatever behaviour problems you're experiencing, I will tailor a programme to suit you and your lifestyle. Let me show you how to take control and have the happy, contented canine that is a pleasure to own.

Do you want a great relationship with your best friend?
I am a certified Bark Busters Master Behaviour Therapist and Trainer and have successfully trained 1,000's of dogs and their owners.
What do I do?
I am a canine behaviour expert based in Devon, and help people with all problems and all breeds. I have extensive experience with serious behaviour issues such as people aggression, biting, dog aggression, hyperactivity, separation anxiety, obsessive behaviour, incessant barking as well as sibling rivalry, basic obedience, puppy education and much more. My reputation has been built on delivering incredible results and excellent customer service which, in turn, has generated numerous referrals from vets and other animal professionals.
How do I work?
After your initial enquiry, I will contact you with a free, detailed phone consultation so that you can begin to understand why the behaviour is happening. I will also explain in detail how the everything works so you can decide if it is right for you and your best friend.
The lesson takes place in and around your home and will last around 3-4 hours. It includes a detailed presentation on behaviour so that you can fully understand the "why" behind the behaviour. I will then tailor a personalised plan incorporating several exercises to enable you modify the behaviour. At the end of the lesson most owners see a dramatic change in behaviour. To enable you to make these changes permanent, you will be left with a written training plan based on what you have already learnt and practised, so you will already be familiar with the exercises. The exercises are very easy and not too time consuming. Most of the training you will undertake is based on how to communicate your instructions clearly and consistently, and encourages you to interact with your dog on a daily basis. The work I ask from you generally adds up to no more than 20 minutes per day…not too onerous an investment for your best friend!
I can also help if you are looking for a dog trainer in Exmouth or Newton Abbot or Torqay
That training was nothing short of miraculous! I am not easily impressed but this was amazing. Kevin was friendly, fun, unrushed and easy to learn from. I was initially hesitant about the cost but it was worth every penny, particularly as both my dogs were helped. I think I needed the most training and if I forget anything (because we covered a lot in the time) I am so pleased that I can ask Kevin for help at any time. It's nice to know you are not left to get on with it after the training is over. The results were instant - I could not believe my eyes! I would recommend Kevin to anyone in need of help with their dog. Brilliant!! Thank you Kevin!!

S.C.

3rd February 2020
Services provided by Kevin
more...
how we can help you and your furry friend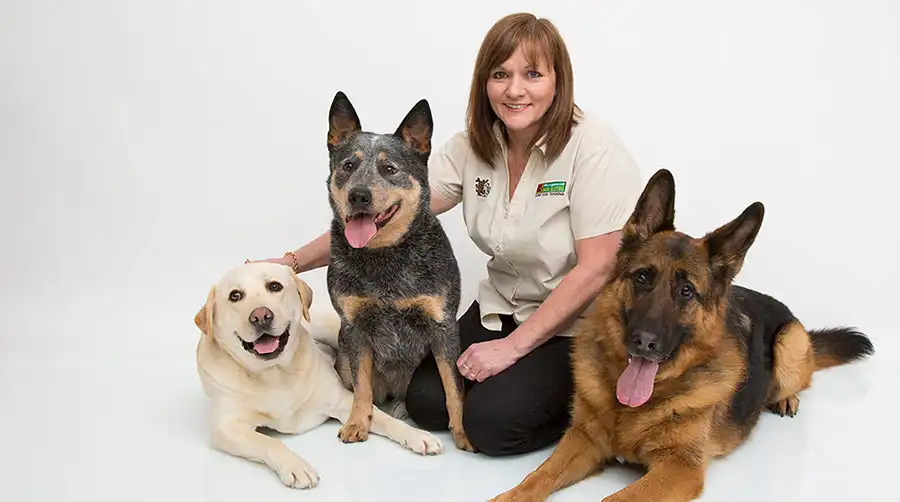 The Bark Busters communication methods help solve behaviour issues such as aggression towards people or other animals
Cure embarrassing habits like barking, jumping up on people, scratching & whining at doors or inappropriate toileting.
Create an obedient dog or puppy that will happily walk on the lead without tugging, sit or stay on command, and come immediately when called.
Set off-limit areas.
Reduce the stress of separation anxiety without the need for sedatives or drugs.
We teach you to communicate with your pet.
Do you find yourself shouting? Do you think your pet isn't listening to you? Maybe you're simply not speaking their language. The Bark Busters communication method is based on the way how our dogs communicate with each other and how they learn from older, more experienced members in the pack. This is what makes our training unique and effective.
Why do we train in your home?
Your pet lives with a family, in a home. This is where he spends most of his time and misbehaves most often, so this is where our programme is most effective. Our dogs learn by association. Bark Busters teaches him to listen in the home environment. If he does not listen at home, he will most probably not listen outside where there are far more distractions.
In your home we teach a one-on-one system without other distractions or the stress of being sent away from you to learn.
Of course, where you are experiencing problems outside the home such as pulling on the lead or dog aggression etc..., we will set up controlled situations in the park or wherever is most practical.
Your trainer is an independent business owner who operates their own business under a franchise agreement with Bark Busters. Dog Day (Devon) Limited trading as Bark Busters, is a franchisee of BBDT (UK) Limited, the Master Franchise holder.