Canine Compulsive Disorder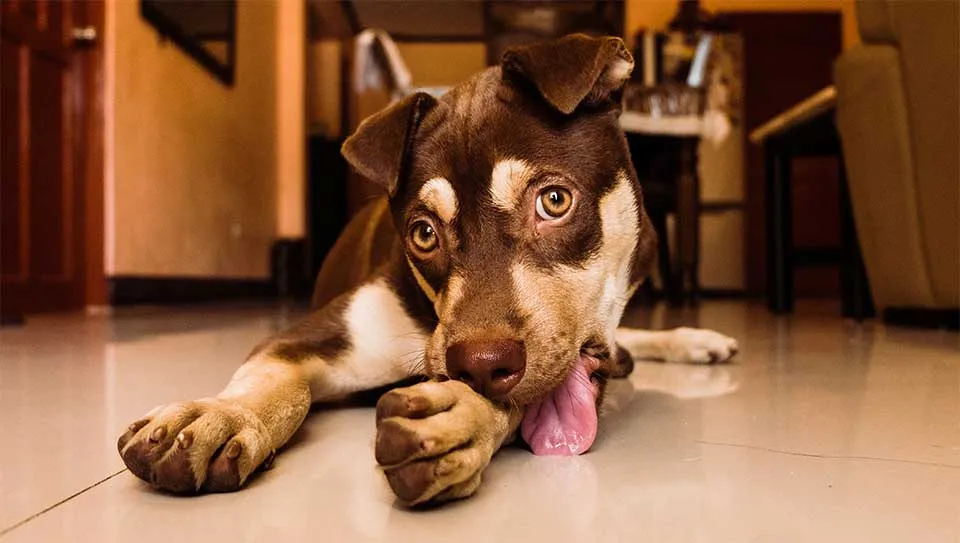 Does your dog show signs of compulsive behaviour? He may be suffering from a condition known as CCD (Canine Compulsive Disorder). Similar to OCD (Obsessive Compulsive Disorder) sometimes seen in humans, CCD in dogs causes them to repeat behaviours to extremes that are not normal, even to the point of injuring or maiming themselves so that they require veterinary treatment.
Examples of CCD behaviours include:
Tail chasing, and sometimes even tail biting
Compulsive licking
Blanket and/or flank sucking
Biting own feet or legs
Chasing lights or shadows
Persistent barking at nothing
Pica (rock eating)
Fixation on a specific toy or object
Excessive drinking (but get your dog checked by a vet as this could also be a sign of diabetes or other illness)
Hallucinations.
It does seem that certain breeds are more likely to show certain types of compulsive behaviours than others, but this does not mean that all dogs of a certain breed will be affected. As with all aspects of behaviour, much depends on the personality of the dog, together with the environment in which he lives, and his daily food and exercise regime. Dogs often develop these compulsive behaviours to cope with stress, anxiety, or a lack of exercise, mental stimulation or nutrition. However, it is always worth speaking to your vet to eliminate the possibility of neurological, orthopaedic or other medical disorders.
We, as owners, need to ensure that we don't encourage compulsive behaviours by laughing and cheering on behaviours that look or sound cute in puppyhood, but which can become unwanted and unhealthy as the dog grows. Some particular examples include… never play light or laser-chasing games with your puppy, don't encourage him to bite his own feet, and don't praise him for barking at nothing at the stage when he is finding his voice.
Whatever the reason for the behaviour, it is advisable to react quickly, before the behaviour and resultant damage becomes chronic. With the help of your Bark Buster trainer, you will be able to put in place some behaviour modification to help stop the compulsive behaviour. Early intervention is important.
Bark Busters therapists have trained more than 1 Million dogs worldwide and are renowned authorities in addressing dog behaviour with all-natural, dog-friendly methods. The Bark Busters training is the only service of its kind that offers International guaranteed lifetime support. With hundreds of trainers around the world, Bark Busters continues its mission to enhance the human/canine relationship and to reduce the possibility of maltreatment, abandonment and euthanasia. Contact your local Bark Busters dog trainer to see how they can help.
This article is the copyright of Bark Busters® and is intended for information purposes only. Dog owners should fully research any problems that they may have with their dogs.