Expecting a baby? Prepare your dog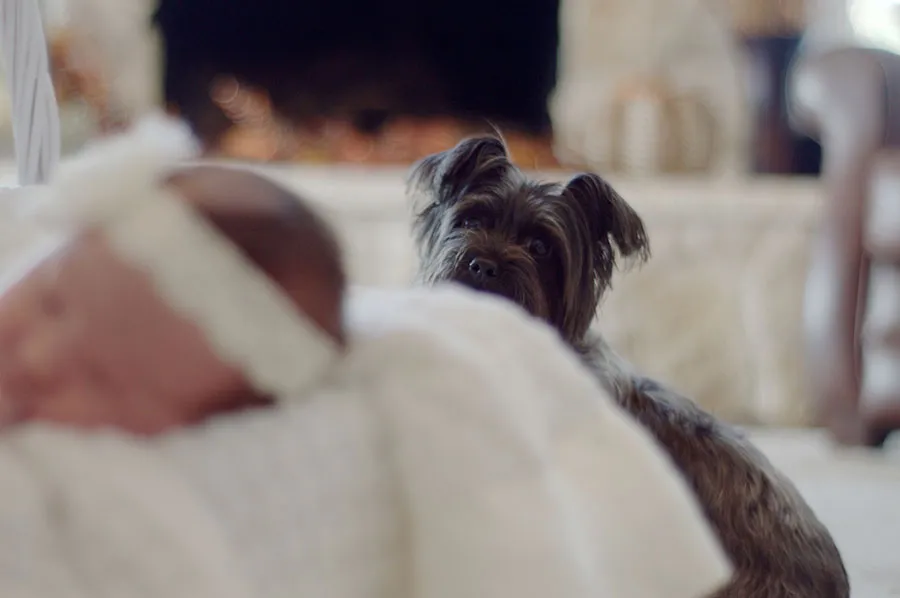 We often get called to visit dog owners who have just welcomed a new baby. Their dogs behaviour is causing a nuisance to the new parents after the arrival home of a new baby. The behaviour traits that dog owners have accepted from their dog prior to the arrival of the baby, is now causing too much noise, stress, and anxiety as their dog continues to jump up, charge around the house, and bark every time the doorbell rings (and we know how often the doorbell rings when a baby arrives)!
Whilst a new parent's life will have changed massively with the new arrival, from your dog's point of view he doesn't know what is different, other than the arrival of a small, noisy creature who is the new focus of all your attention instead of him. The dynamics have changed in the household and often the leadership, as the attention is focused on the new arrival. He won't understand that you no longer want him to jump up, particularly while you are carrying the baby. Nor will he understand that his barking now wakes the baby that you have finally got to sleep. Added to that, he may have been barred from certain rooms, or even your bedroom where he has always slept and he doesn't understand why. His behaviour may even seem to get worse as he goes to extra lengths to get back your attention.
To minimise the stress that can happen with the arrival of a baby, into a home with a dog, we would recommend that you prepare early. Don't leave things until the last minute. Try to prepare as early as possible before the arrival date. We'd recommend starting to prepare as soon as you know there is a baby on the way. Consider your dog's behaviour and consider whether it will be a problem when that time arrives, and then start your training during early pregnancy so that you behave as you expect to behave once the baby arrives. Prepare your dog for any new routines well in advance of the expected date.
Never, under any circumstances, leave a dog and baby alone together. Not even for a few seconds. You should be there to supervise all and any interactions.
Start to ignore your dog's attention seeking behaviour. We want you to play with you dog but play should be initiated by you rather than the dog's demand. Break up the routine a little by making sure play and walks take place at different times and more erratically.
If he sleeps in your bed or your bedroom, gradually start to get him to sleep in his own bed, preferably downstairs so that he doesn't feel his place has been taken by the baby, or he feels his place needs to be next to the baby. The same rule applies to sofas and chairs (and your lap) as that is where the baby will be.
Stop feeding food and treats from your hand. If he believes that hands are a food source, he may try to snatch food from you when you are feeding the baby, or from the baby once he/she is crawling.
Introduce some brain stimulation toys, such as the GameChanger ®, that will entertain him for lengthy periods. Toys that release treats are particularly good. If he learns to love the toy, he will be happy to have it once you are busy with the baby.
Try to introduce the sound of a crying baby so that he doesn't become too curious around the sound of your baby crying. There are dolls available on the market that would suit this purpose well.
Teach your dog that you don't want him to rush to the front door, barge through doorways, or bark when the doorbell rings. You won't be able to open the door whilst holding the baby and controlling your dog from rushing outside, and you won't be fast enough to do this training once the baby arrives. If he barks at the doorbell, that may wake the baby, so it's a good idea to train him out of this too.
Allow someone else to carry the baby into the home when you first return home. You've been away for a while and your dog will want to greet you and will be curious about what you have brought with you. It's important that your dog doesn't see the new arrival as either a threat, a treat, or a toy. With this in mind, during your pregnancy, also stop any routine of exuberant greeting when you return home, and don't give treats or play as soon as you come in. If your dog gets very excited when you come home then get into the habit of ignoring your dog for a while, until he calms down. You may find it difficult at first, but your dog will soon become accustomed to this behaviour and will be much calmer around you when you enter the home, especially with a baby in your arms.
It's important to treat your dog kindly and to be considerate of the fact that he doesn't understand the changes that are taking place in you and in your household. Training in advance of the event, using kind, consistent methods, will alleviate the pressure of behaviour problems. This is a much better option than unsettling your dog by scolding him for doing things he doesn't know are wrong, because you are worried about the baby, or tired and stressed from the new demands upon you. With a little preparation, understanding and tolerance, your dog and your baby can live together happily.

Our Bark Busters trainers will be happy to help you with this and any other aspects of your dog's training needs. If you would like to know more, contact your local trainer or give us a call on 0808 100 4071, and one of the team will provide you with full details without obligation.