Home Alone Syndrome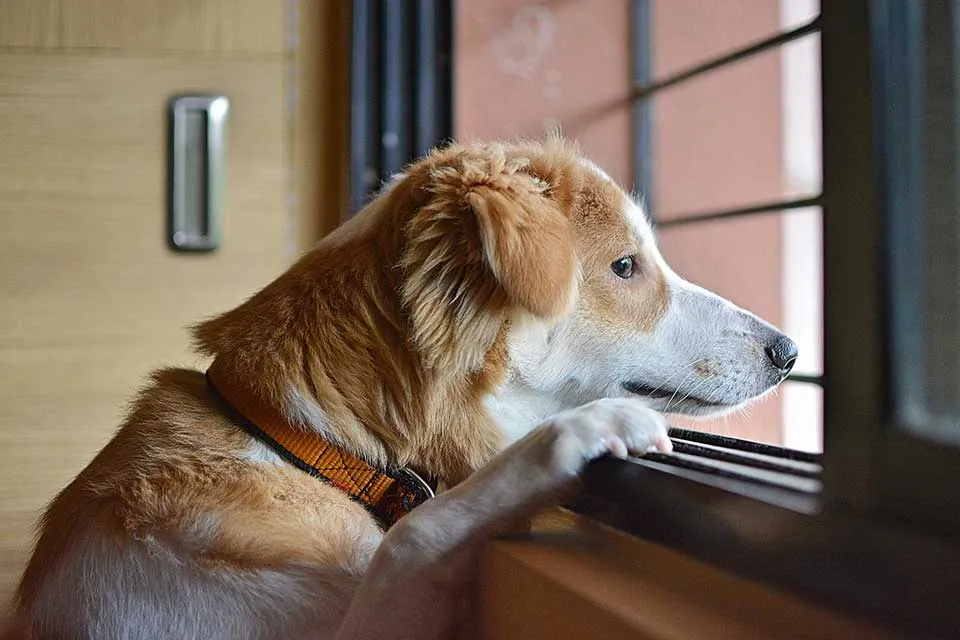 Dogs who become destructive when left alone in the home or garden, can often be misdiagnosed as suffering from separation anxiety. We cover separation anxiety in our separate article, and this explains in more detail the symptoms of this particular form of anxiety.
Home Alone Syndrome may still result in nuisance barking and damage to your home and possessions but, unlike separation anxiety, it is not caused by anxiety; it is more likely to be caused by boredom. With Home Alone Syndrome, the dog's bad or destructive behaviour will only begin some time after the owner has left the house, maybe even hours later once boredom has well and truly set in.
This kind of behaviour is seen mostly in highly intelligent dogs, very active dogs, or dogs who like to play a lot with their owner or need constant interaction. These types of dogs need stimulation and an outlet for the energy and intelligence.
Dogs may start to wander around the empty house looking for entertainment and this could result in them picking up various items and tossing them and/or chewing them. They may target house plants, cushions, shoes, toys, books and any other available items like soft furnishings. If your dog has access to the garden, he may dig up the lawn or the borders and uproot plants. This behaviour can become more intense as time goes by and their boredom levels increase.
The key to dealing with Home Alone Syndrome is to firstly ensure that your dog has plenty to keep him entertained when home alone. Toys and games that encourage your dog to use his brain to obtain a hidden treat are a good idea. The GameChanger® is ideal in these instances as it encourages your dog to work hard to obtain the tasty treat inside. Also, using a Kong® stuffed with soft fillings and frozen, will take your dog much longer to extract the goodies and will also tire him out so that he can sleep for some of the time that you are out. Bark Busters have developed their own toy called The GameChanger® to help with this behaviour and is specifically designed to entertain your dog; you could check out our article on how to keep your dog entertained when home alone for more information.
If you want to know what your dog is up to whilst you are out, you could choose to set up a video camera. There are lots of apps available which mean that owners don't have to invest in expensive equipment to keep track of their dog's movements when they are home alone. Wireless internal cams start from as little as £20 and can be operated and viewed remotely on your smartphone.
Other things that you could consider are:
Reduce the amount of space your dog has access to when you are out.
Leave the radio or television on so that the house isn't too quiet.
Employ a dog walker to come and take your best friend out for some exercise to break up the time spent alone. After some exercise, your dog is more likely to sleep for a while.
Encourage your dog to entertain himself sometimes even when you are home. Don't be your dog's only source of entertainment and stimulation.
If you have a dog who shows his destructive side when left alone, and you're struggling to deal with the effects, or if your neighbours are complaining about the noise when you are out, please do try any of the tips above. Alternatively, we'd love to help you. Give us a call on freephone 0808 100 4071, and one of our friendly team will give you details of your local trainer who will come to your home and prepare a personalised plan to help you.



Bark Busters therapists have trained more than 1 Million dogs worldwide and are renowned authorities in addressing dog behaviour with all-natural, dog-friendly methods. The Bark Busters training is the only service of its kind that offers International guaranteed lifetime support. With hundreds of trainers around the world, Bark Busters continues its mission to enhance the human/canine relationship and to reduce the possibility of maltreatment, abandonment and euthanasia. Contact your local Bark Busters therapist to see how they can help.
This article is the copyright of Bark Busters® and is intended for information purposes only. Dog owners should fully research any problems that they may have with their dogs.