Keeping your dog entertained when home alone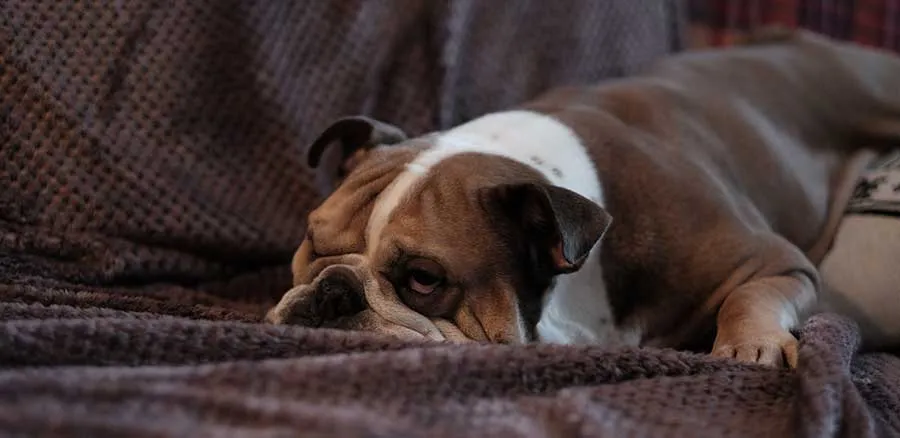 How does your dog cope when left home alone? Does he wait patiently for your return, listening for the sound of the car on the drive, or the key in the lock? Does he become bored or even stressed and seek out some entertainment?
Providing some entertainment for your dog when left alone will stimulate the brain, can reduce boredom and anxiety, and so reduce the chance of destructive behaviours like chewing, digging and barking. In fact, you will both feel more relaxed about being apart.
As a pet owner, you could consider several options to alleviate your dog's boredom. These could include from treat-releasing toys and tech gadgets, or even a trusted dog walker who will come and take your dog out for a walk to break up the time alone
Entertaining Toys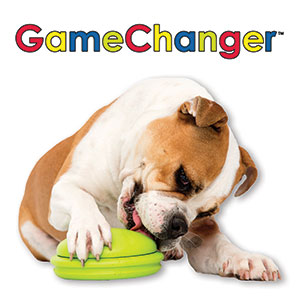 If your dog suffers from boredom or anxiety when left alone, the GameChanger® is an ideal toy to keep him engaged. This type of treat-releasing toy can keep your dog's mind occupied for long periods, and will lessen the risk of him chewing something that he shouldn't. The GameChanger® by Bark Busters is safer for your dog's teeth than hard toys that can potentially chip or wear down teeth. Made of Flexa-Pure, a soft but sturdy, washable, durable non-toxic PBA-free polyurethane material, it is a quiet toy if bounced around, and great if you live in an apartment or have hard or wooden floors. Simply open the two sides, fill it with your dog's favourite treats or kibble, and your dog will go to work trying to extract the treats. A Kong® can be filled with a treat that needs to be licked out, such as dog friendly paste, and can even be frozen to ensure that the treat lasts much longer. There are even some great DIY toys you can make from items around your house. According to studies, dogs get bored with the same old toys, so change things around and give him access to only a few at a time to keep him interested.
TV or Radio for Your Dog
Many dog owners leave the TV or radio on whilst they are away from the home. In fact, classical music has been shown to help ease anxiety in dogs. Leaving a TV or radio playing can also muffle outside sounds that may stress your dog, and cause barking.
Hire a Dog Walker
If your dog is likely to be home alone for long periods, consider hiring a dog walker. If you don't want to hire someone see if one of your neighbours, relatives or friends would be willing to call in to let your dog out into the garden, take him for a walk or play with him.
Pet Monitors
There are several apps available to enable pet owners to watch and communicate with their dogs when they are away from the house. These can be used in conjunction with other forms of entertainment provided as described above.
Limit the space.
Consider limiting your dog's space when left alone. We would not recommend the use of a crate if your dog will be alone for long periods, but giving him the run of the whole house can increase anxiety, set up guarding behaviour and possibly increase the risk of nuisance barking. A room at the back of the house, away from street noises is always the best solution, especially if he has a comfortable bed, entertainment and fresh water to hand.
Practice makes perfect.
Before you start to leave your dog for extended periods, start by leaving him alone for very short periods, using any or all the tools suggested above. By doing this, you will train your dog to understand that being left alone is not a traumatic experience. By gradually increasing the time spent alone, you will have a much happier dog at times when you are going to be away for several hours.
Give Your Dog a Brother or Sister?
As Bark Busters trainers, we are often asked if two dogs is better than one to keep each other entertained. Our answer is always the same: only get two dogs or another dog if YOU really want two dogs. It's also important to make sure any behaviour problems are addressed before getting an additional dog or you'll most probably end up with twice the problem. Adopting or rescuing another dog as a companion to your furry friend can help both animals. You give your existing animal someone to socialise with during the day and you possibly save a life. Reputable rescues will often allow you to foster first, and then adopt the dog of your choice to make sure the animal fits well with your family and your other dog.
It's up to you to decide what works best for you and your dog. By providing the right environment for an anxiety-free period of being home alone, you will be doing the best you can for your beloved dog.
Tip: If you're considering another dog then we recommend the opposite sex to your existing dog. So, if you have a male then try to find a female. If this is not possible then two de-sexed males would be a second choice. Two females should be a last choice as they can compete with each other, which could lead to behaviour problems.
Bark Busters trainers have trained more than 1 Million dogs worldwide and are renowned authorities in addressing dog behaviour with all-natural, dog-friendly methods. Bark Busters training is the only service of its kind that offers International guaranteed lifetime support. With hundreds of trainers around the world, Bark Busters continues its mission to enhance the human/canine relationship and to reduce the possibility of maltreatment, abandonment and euthanasia. Contact your local Bark Busters dog trainer to see how they can help.