National Neuter Awareness Month - February 2016

February 23rd 2016 is World Spay Day
February is Spay/Neuter Awareness Month with World Spay Day occurring on 23 rd of the month. This day is an international call to action that promotes the spaying and neutering of pets, street cats and street dogs with a view to saving lives.
World Spay Day sees vets and animal welfare professionals attempt to drive focus towards the awareness of spaying and neutering as a means of saving animals from death, disease and to reduce the numbers of animals living on the streets or abandoned in rescue centres.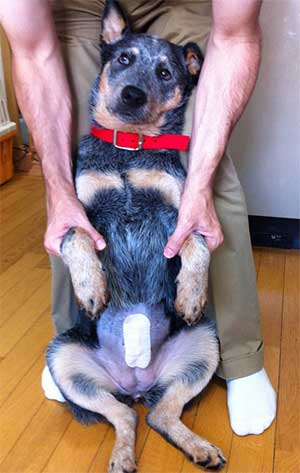 At Bark Busters we are all about dogs and it saddens us to hear about the numbers of dogs abandoned onto the streets to fend for themselves with risk of death from shooting, poisoning or simply starvation. Our trainers and therapists from all around the world volunteer their free time to rehabilitate rescue dogs in shelters with the hope of re-homing. In 2015 several of the Bark Buster UK therapists travelled to the Greek Isle of Santorini to volunteer at SAWA, a rescue centre, whose staff are responding daily to the crisis situation of street dogs on the island. Many of the dogs abandoned onto the streets of Santorini are there through no fault of their own. – just victims of an economic downturn and a failure to neuter.
Here in the UK, most dog owners will take the advice of their vet and have their pet spayed/neutered appropriately. The surgery is simple, effective and humane and prevents unwanted litters. However, for some people funding for the surgery is out of reach. World Spay Day invites people to raise awareness of the importance of spaying/neutering and even to help raise funds to bring the simple operation within the means of everyone.
So let's look at the benefits for your dog.
Spaying (for females) reduces the chances of ovarian or uterine cancer, and breast cancer, whilst neutering (for males) reduces the chances of prostate cancer and eliminates the risks of testicular cancer.
Spaying eliminates the potential risks associated with carrying and giving birth to a litter of puppies.
The surgery reduces the desire to roam, and the potential to be lost or stolen, in both males and females.
It is believed to help both males and females live longer, healthier lives.
In some cases, it may help to reduce aggression or marking in males.
And what are the benefits for the dog owner?
Your dog may be calmer and display fewer behaviour problems. He/she may also be more approachable.
The 'marking' of territory may be reduced or eliminated.
Spaying and neutering are unlikely to affect your dog's working abilities, and should not alter their personalities or their weight. Therefore, owners must not regard such surgery as a quick way to fix serious behaviour problems. It is important to consult a dog behaviour professional such as your local Bark Busters Home Dog Training Therapist, if you are having behaviour issues with your dog. They, along with your vet, will help you decide the best way forward for you and your dog.