So you got a puppy for Christmas!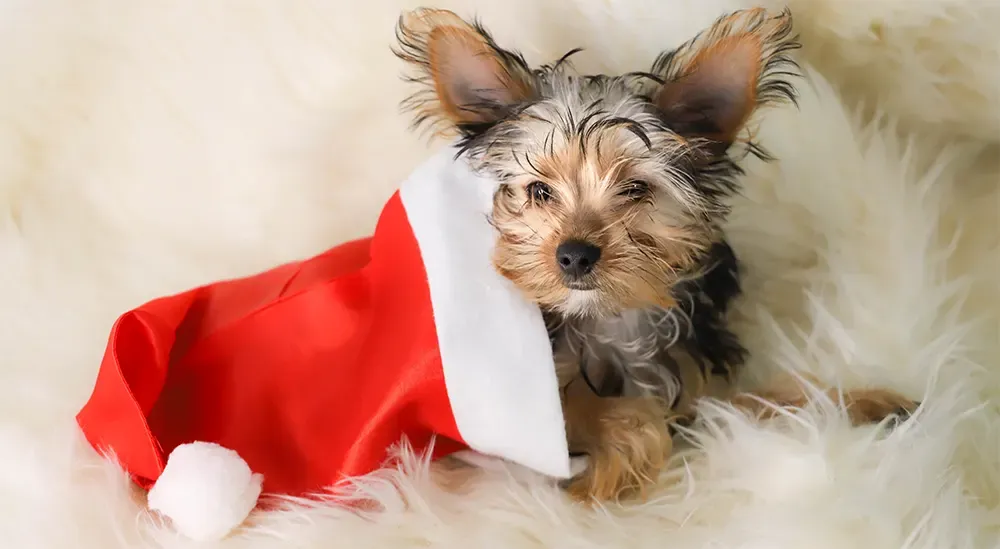 We are now well in to January and time to think about training your puppy. The puppy you got for Christmas has been with you for 3-4 weeks. He's growing quickly, and hopefully becoming a much-loved member of your family. However, if you are struggling with training a growing puppy who cannot seem to grasp the basics of toileting outside, who is chewing the furniture and becoming a little unruly, then you are not alone. Don't be defeated and rush into blaming the puppy and regretting your decision to own a dog. Now is the time to take things in hand and start to get the training under control.
Firstly, decide on what you want to achieve from the training and make sure all of the family are in agreement. Along with all of the advice we give comes the key to success; being consistent. This is particularly important when training a puppy. You need to ensure that your rules and actions are consistent, and maintained by all the family (with the exception of small children who cannot be consistent). If you are not consistent, any training advice you try to put into practise will take much longer to have any effect, and may not have any effect at all!
Training a puppy to become a well-socialised and well-mannered member of your family takes a lot of hard work. If you are failing, then it is likely that you are not all working together, or that you are confusing your puppy. Let's look at some of the most common reasons why we, as Bark Busters behaviour therapists, are called in to help with puppy training:
Toilet Training
If you allow your puppy to wander around the house unattended, chances are he will disappear and toilet somewhere, completely oblivious to the fact that he is supposed to be learning to toilet outside. To avoid this type of accident, you should keep your puppy in sight and in the same room as you at all times when he is awake. You should also be taking him outside to toilet at regular intervals (such as hourly) and also whenever he wakes up, or has an exuberant play time. Going outside with your puppy (in all weathers) is crucial as you are on hand to praise him immediately he performs outside, and he will begin to learn why he is being praised. If you just open the door to allow your puppy outside and then praise him when he comes back in to the house, he will not know that he is being praised for toileting outside as he will have forgotten about that and think he is being praised for simply coming inside. Plus, you won't know whether he has actually toileted outside.

Chewing/Mouthing
Puppies use their mouths to explore their environment. They have no concept of what they should or shouldn't chew at this point. So if you don't want your best trainers/handbag/books/pens chewed, make sure they are out of reach of your puppy. You are responsible for keeping your possessions safe and you are also responsible for keeping your puppy safe. Make sure there is nothing within his reach that he might chew that could harm him or that could easily be deadly. This includes power cables and extension leads or small items that could be swallowed. Be sure to provide your puppy with good quality toys and items that can be safely chewed. Also provide him with a healthy, nutritious diet so that all of his nutritional needs are met. If you find that your dog is mouthing or chewing your hands, you should freeze your actions. Most puppies quickly learn not to do this, however, if you are spending time on the floor playing hand games with your puppy, then he is going to struggle with the concept that hands don't go in his mouth! Never play hand games or wrestling with your dog. Play with toys or use a tug toy instead. Your local Bark Busters dog behaviour therapist can help you with this problem.

Sleeping
Allow your puppy plenty of sleep and ensure that his bed is a personal space where humans are not allowed to go and disturb him. You may want to consider crate training as this gives your dog a feeling of safety and allows him some children-free time (and vice-versa). Crates can also help you with the toilet training methods described above. If your puppy is struggling to sleep alone through the night, a crate covered with a blanket will provide a small, dark space and so reduce the stress of being alone downstairs. Unless you are going to have your adult dog sleeping on your bed (which we don't recommend), don't be tempted to give in and bring him to your bed as a puppy. This only creates problems that you will want to rectify later on. Also, dogs are very quick learners…if they realise that crying and howling brings you downstairs and transports them to the warmth of your arms or your bed, they are going to do that over and over again! Remember, dogs are great people trainers!
As with all aspects of dog and puppy training, it is all about the communication. You need to communicate with your puppy in a way that he understands, be consistent, give lots of praise, make your training fun, and NEVER use physical punishment.
These are just a few tips to help to get you back on track. There is much more that we can help you with when it comes to training your puppy. At Bark Busters Home Dog Training we love to train puppies, so please feel free to give us a call. Your local dog behaviour therapist and trainer will be delighted to come to visit you in your home and tailor a training programme specially to suit you and your home, family or work situation.
---
Bark Busters trainers have trained more than 1 Million dogs worldwide and are renowned authorities in addressing dog behaviour with all-natural, dog-friendly methods. Bark Busters training is the only service of its kind that offers International guaranteed lifetime support. With hundreds of trainers around the world, Bark Busters continues its mission to enhance the human/canine relationship and to reduce the possibility of maltreatment, abandonment and euthanasia. Contact your local Bark Busters dog trainer to see how they can help.