Taking your dog on a trip this summer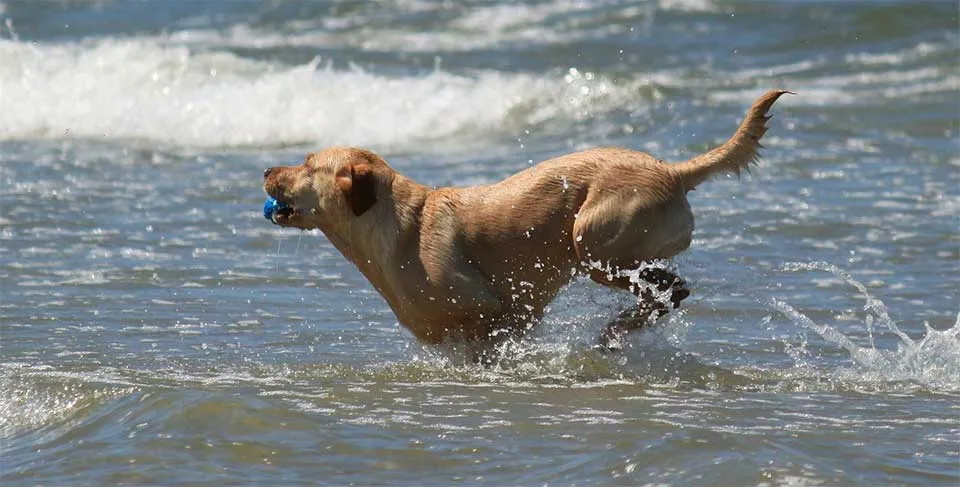 As dog lovers, it is great to be able to travel somewhere for a holiday where our dogs can come too. Often, the thought of our furry friends enjoying the fresh air, wide open spaces, new friends and new adventures that await makes the trip even more worthwhile and exciting for us. Taking your dog on holiday will involve a little forward planning (and some extra room in the car!). However, by being prepared and having contingency plans in place to cover any unexpected problems, you should be able to enjoy a lovely and relaxing break away from home with your beloved dog.
We have put together a few pieces of advice that should help get your Summer trip away with your dog off to a great start.
Health
It's a good idea to have your vet give your dog a check-up before you take him away on holiday. Hopefully your dog will be given a clean bill of health. However, if the vet notices something that isn't quite right, you will have the latest information about your dog's health, and your vet's advice about a holiday. If you go on to take your dog on holiday you will have the latest information should you need to seek veterinary help whilst away. Remember to take your dog's veterinary records on holiday with you as these will be useful to a vet seeing your dog for the first time and will contain the contact details of your regular vet should they need to contact them. If your dog is a nervous traveller, your vet may also be able to provide medication to help calm him during the journey.
Identification
Make sure that your dog's microchip information is up to date before you travel and update contact details on the collar and tag. If you are away on holiday the contact telephone number needs to be your mobile number so that you can be tracked down quickly.
Dog-Friendly Places to Stay
There are many websites now dedicated to dog-friendly holidays, and certain hotels will allow dogs to stay. Check with the hotel before making the booking. If you want your dog to sleep in your hotel room, you will need to check that this is allowed as some hotels will want you to leave your dog downstairs in a crate. If your dog is not used to sleeping alone in a crate, this is not a good time to introduce the idea. If you are renting a self-catering accommodation and aren't planning on having your dog with you 24-hours a day every day - for example if you plan on going out for a meal at night without your dog- check that your rental terms allow for you to leave the dog unattended in the accommodation, as some will specify that this is not allowed, and you may be liable if anything happens.
Food
Take a supply of your dog's usual food and try to ensure that you know where to buy it from whilst you are on holiday. If you feed frozen food, be sure that there is adequate freezer space available to store supplies. Make sure there is adequate water available for your dog during the journey.
Avoid Excesses
Just like humans, dogs can have too much of a good thing. Being outside for too long on hot days can cause heatstroke which can be fatal. Dogs overheat much quicker than humans and you may not notice until it's too late. Too much water play can also cause serious health problems when too much water is ingested. Eating ice creams, burgers, hot dogs and picnics may seem like great fun for your dog but could cause serious health problems. Ensure your dog always has access to fresh water to drink, and that he has plenty of opportunity to rest and sleep away from the heat. Please don't make your dog walk on hot pavements – if you can't walk on the pavement in your bare feet, neither can your dog.
Car Dangers
Never leave your dog in a car, even if you think the weather is not hot but simply warm out. The temperature inside the car will build to be much hotter than outside. Cars are like ovens and they keep the heat in which will cause your dog to overheat and this could be fatal for your dog. Opening the windows will have little to no effect on the temperature inside the car.
Be in Control
As you will be unfamiliar with the area, make sure you keep your dog on a lead out of respect for local farmers, landowners and other dog owners, and to ensure that your dog is safe as he does not know the area either and could get into danger. If your dog has ever shown any aggression to other dogs, animals or people then we recommend using a basket muzzle for your dog's protection. If your dog makes a mistake the consequences will be dire.
There is no doubt that taking your dog on holiday can be a joyful experience and add no end of fun. There will also be compromises and limitations involved in any holiday where your four-legged friend comes along but, by planning carefully and being realistic about what you can expect from your dog, you should be able to have a great time.
Happy holidays!
Bark Busters therapists have trained more than 1 Million dogs worldwide and are renowned authorities in addressing dog behaviour with all-natural, dog-friendly methods. The Bark Busters training is the only service of its kind that offers International guaranteed lifetime support. With hundreds of trainers around the world, Bark Busters continues its mission to enhance the human/canine relationship and to reduce the possibility of maltreatment, abandonment and euthanasia. Contact your local Bark Busters dog trainer to see how they can help.
This article is the copyright of Bark Busters® and is intended for information purposes only. Dog owners should fully research any problems that they may have with their dogs.