meet your specialist trainer Alex Fraser
Your Expert for Dog Training Central Manchester and Cheshire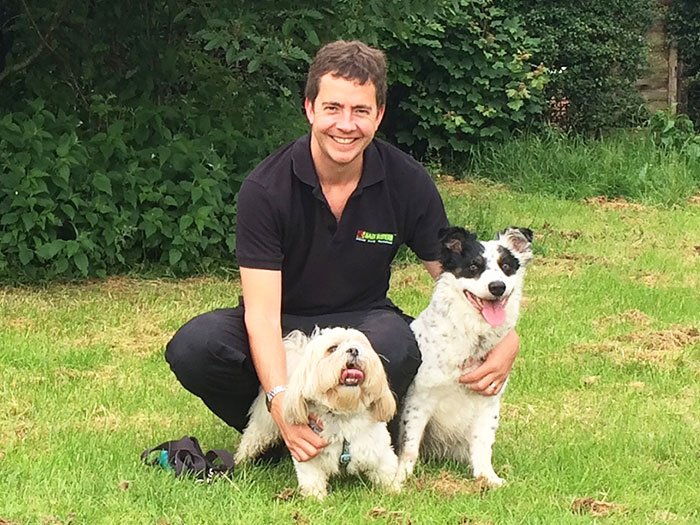 or call 0808 100 4071
Welcome to Bark Busters Home Dog Training Manchester Central and I'm Alex Fraser your local behaviour therapist & Trainer. I also cover Stockport, Wilmslow and Altrincham. I would be delighted to hear from you if you need any help with any dog or puppy behaviour problems or if you're looking for general training.
I've been working as a Bark Busters behaviour therapist for many years now, and have trained thousands of dogs and their owners. I relish every day that brings the opportunity to work with dogs of every size, age, breed and whatever the behaviour problem. As a trainer, I am able to combine my love of canines with the skills gained from 15 years of corporate life. Having worked as a leader and mentor in my previous career, I understand that people are happier once they understand what is expected of them and how to achieve it. Dogs are no different. What is common to all dogs is the need for clear and consistent direction and communication. This is why my training programme is designed around pet and owner. It's tailored to your specific needs, ensuring that both dog and owner understand the rules and boundaries I put into place.
When you ask me to work with you, I will visit you in your home and allow you plenty of time to outline the problems you are having. I will then explain to you how the tailored programme works, and how we are going to put it into place to address your particular needs. There will be lots of opportunity to ask questions, and I will ensure that you have an understanding of everything and had lots of chance to practise before I leave. I will leave you with a training programme to follow, and a promise to return to support you in your progress for the term of the programme.
If you're looking for local quality dog training near you, then you've come to the right place. I have worked in many different situations; from clients who live alone with a small dog, to those who own land and numerous dogs. I recently worked with a family who owned stables, and wanted to teach their 5 dogs not to rush at customers entering the yard, and to recall when called. By working together to put boundaries in place, the owners were able to gain the control they wanted. I have also worked with a 13 stone bull-breed who pulled on the lead and lunged at other dogs. He was, understandably, really difficult for the owners to walk! I worked with the owners on their tailored programme which they embraced enthusiastically. With practice and patience his walking improved and is no longer a problem on the lead.
I also specialise in working with rescue dogs as they settle into their new homes and adjust to their new environment. They need to build confidence in their adoptive families, and I am always delighted to be able to help with this. I was particularly proud to have worked with a 3 year old who was in her 7th home due to her destructive behaviour. The new owners were committed to the plan we put into place and, with my continued help and support, they now have the family pet they wanted, and their dog has her forever home.
Whatever issues you are facing, such as aggression, barking, separation anxiety, jumping up… or a combination of issues, I am confident that the communication system I will teach you will enable you to regain control and put a stop to the unwanted behaviour.
I can also help if you are thinking of getting a puppy and want the best start. My puppy programme is fun and friendly, and will help you to become the proud owner of a happy puppy.
Feel free to contact me for a no-obligation chat about your needs. You can also read my client reviews to see what other people just like you have to say about me.
I can also help if you are looking for a dog trainer in Fast Track Puppy Training
Alex was amazing with our dogs. They immediately responded to his techniques to the point that it looked like we had called him in for well behaved dogs. Nice easy to use techniques, especially having two we were finding it hard to teach them both at the same time. The behaviour has improved immediately and we are enjoying continuing our homework with them on a daily basis and feel it has greatly increased our bond with them as they are being more attentive to us now waiting for instruction rather than ruling our home.

C.M.

9th August 2019
Services provided by Alex
more...
how we can help you and your furry friend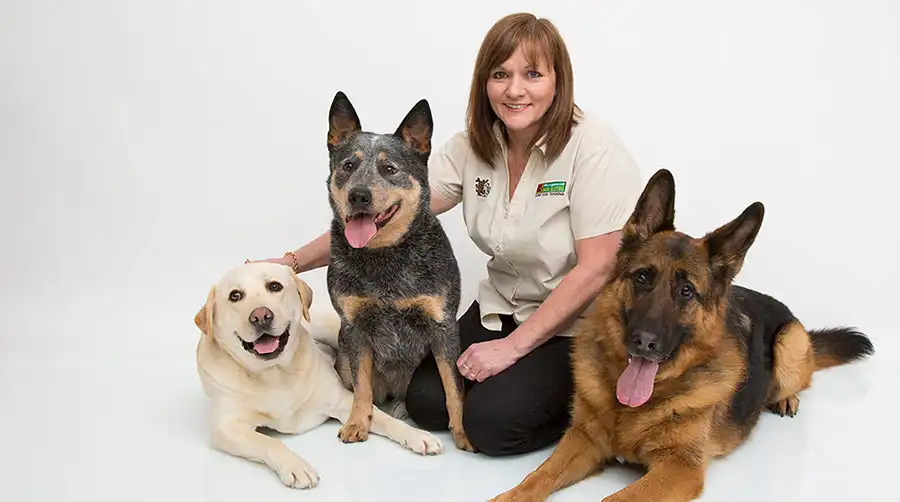 The Bark Busters communication methods help solve behaviour issues such as aggression towards people or other animals
Cure embarrassing habits like barking, jumping up on people, scratching & whining at doors or inappropriate toileting.
Create an obedient dog or puppy that will happily walk on the lead without tugging, sit or stay on command, and come immediately when called.
Set off-limit areas.
Reduce the stress of separation anxiety without the need for sedatives or drugs.
We teach you to communicate with your pet.
Do you find yourself shouting? Do you think your pet isn't listening to you? Maybe you're simply not speaking their language. The Bark Busters communication method is based on the way how our dogs communicate with each other and how they learn from older, more experienced members in the pack. This is what makes our training unique and effective.
Why do we train in your home?
Your pet lives with a family, in a home. This is where he spends most of his time and misbehaves most often, so this is where our programme is most effective. Our dogs learn by association. Bark Busters teaches him to listen in the home environment. If he does not listen at home, he will most probably not listen outside where there are far more distractions.
In your home we teach a one-on-one system without other distractions or the stress of being sent away from you to learn.
Of course, where you are experiencing problems outside the home such as pulling on the lead or dog aggression etc..., we will set up controlled situations in the park or wherever is most practical.
Your trainer is an independent business owner who operates their own business under a franchise agreement with Bark Busters. Mutts With Manners Ltd trading as Bark Busters, is a franchisee of BBDT (UK) Limited, the Master Franchise holder.