Dog Training Macclesfield & Manchester South & Puppy Education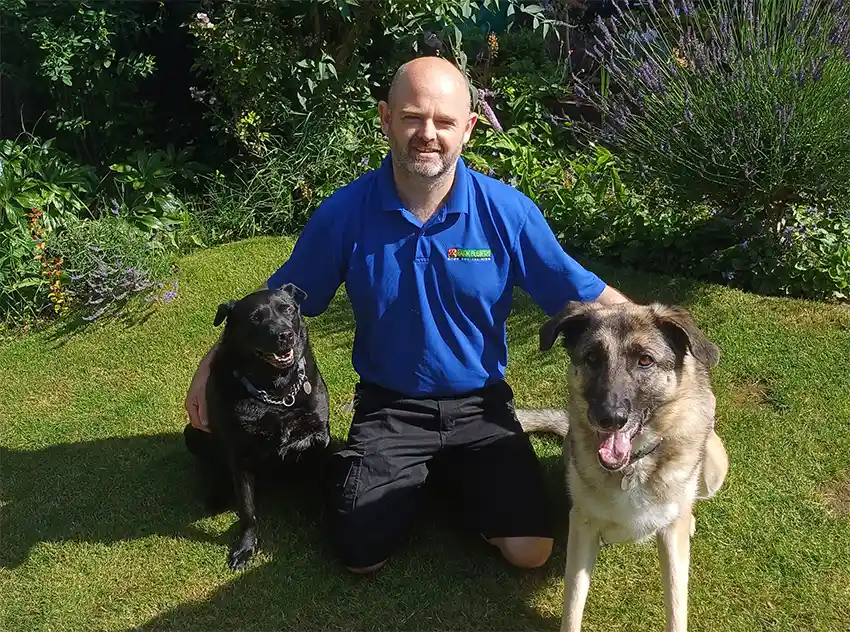 Welcome to dog training Macclesfield & Manchester South, I am Dave Jefferay your local dog and puppy behaviour therapist and trainer. I can help with all sorts of problems you are experiencing with your dog or puppy's behaviour. I help dog owners with all manner of behaviour problems, from dog owners who have just got a puppy and are feeling a bit out of their depth, or need a refresher as it is a long time since they have had one, to those clients whose dog is a little older and pushing the boundaries or playing up a bit, as adolescents do. Their previously good recall may have gone a bit wrong, they may be pulling on the lead, jumping up, showing signs of aggression, or otherwise generally pushing boundaries. I also help many rescue dogs who are struggling with the change in circumstances, have separation anxiety or are not settling in well with their new family.
If you are looking for professional dog training near you, then you have found the right place. I provide one to one tailored training which is carried out in your home, and surrounding areas where outdoor training is needed, as this is where your dog is less stressed and is most comfortable. There will be plenty of time to outline any problems you are having, and I will explain how the tailored training programme works, and how we are going to put it into place to address any behaviour problems. There will be lots of opportunity to ask questions and I will ensure that you an understanding of everything and have lots of time to practice before I leave. In many cases, it often requires only small tweaks to your relationship with your dog or adjustments to the lifestyle of your dog to see significant improvements in behaviour.
You also have the peace of mind that with my 12 months or Life of the Dog Support Guarantee packages, I return free of charge to continue to support you, as required, to help you to implement those tweaks and adjustments.
About me
I grew up with dogs but like many people I didn't really appreciate how much effort my parents must have put in. I became more interested in dog training when I got a puppy, Cassie, in 2001 and went through all the pain that many of my clients now experience when getting a new puppy. I attended a few different training classes but quickly realised that they were not right for Cassie, and I didn't like the methods used, which I felt were aimed at turning her into a robot. My dog was part of the family and I wanted her to be happy and have her own personality. I therefore learnt more about dog training and taught her myself. Over the years, I have built on that learning, and I am now a Bark Busters dog behaviour therapist and trainer and I have successfully helped hundreds of clients change their dog's behaviour for the better. Every dog is different, and you learn even more from every dog you train.
My current dog, Perra, is a rescue from Spain and she joined the family in 2016. She was about 7 months old when we adopted her and when she arrived, she had some dog reactivity issues. Therefore, I do know how my clients feel when their dog spots other dogs from 10 miles away and starts to worry. I also know what it is like introducing a new dog to family cats, chickens, and to babies when they arrive too.
So, if you are experiencing difficulties with your furry friend, please get in touch with no obligation and we can have a chat to see how I can help you.
I can also help you if you're looking for a trainer in Altrincham, Northwich, Stockport, Wilmslow

David accepts debit/credit cards
Areas Covered
Winsford, Alderley Edge, Macclesfield, Chapel-en-le-Frith, Buxton, Mere, Bollington, Bramhall, Disley, Gatley, Glossop, Hale, Hazel Grove, High Lane, Knutsford, Marple, Middlewich, New Mills, Poynton, Prestbury, Romiley, Sale, Whaley Bridge
Your trainer is an independent business owner who operates their own business under a franchise agreement with Bark Busters. Jefferay Dog Training Limited trading as Bark Busters, is a franchisee of BBDT (UK) Limited, the Master Franchise holder.
Contact Your Local Trainer
My Service Ratings